Could Your Business Use A Pergola?
If you are thinking of revamping your business's landscape, you are probably trying to come up with something new and eye-catching. After all, an attention-grabbing landscape impresses clients and rejuvenates employees. So, what kind of features would a cool landscape have? You have many options, from decks to shrubbery, and one of the more versatile choices is the pergola. These are vertical pillars that support an open lattice and crossbeams. These can be constructed over an eating area or a walkway, and they can be draped with vines. There are a few reasons why your business might want to add pergolas to your landscape.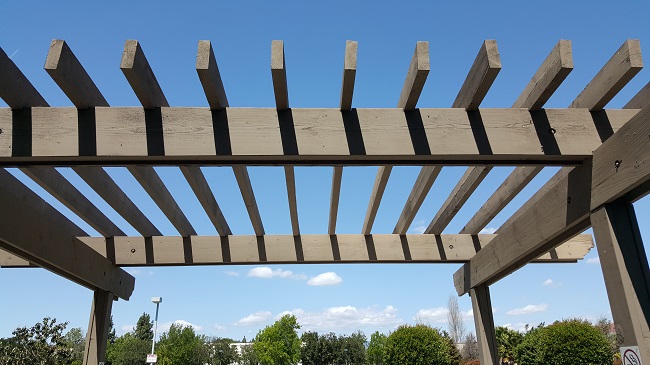 Adds Shaded Gathering Places
The sun can be brutal sometimes, and pergolas will offer some protection to people. This makes it a pleasant spot to hang out on hot days, thus cutting down on the number of people straggling in late from their breaks because they went somewhere cooler. Eating outside under a beautiful pergola is also reinvigorating for the mind, so encouraging employees to spend their lunches under a pergola can boost your productivity.
Adds Depth To Your Landscape
A really cool landscape is 3-dimensional. It includes vertical decorations as well as horizontal decorations that give variety to a space and make it look lusher. Pergolas provide vertical layers to your landscape by letting you trellis plants on them and drape things over the crossbeams. And you can get creative with what you do with your pergola to really make your landscape inviting. Want to add a whiff of summer to your landscape? Wrap the pillars with honeysuckle. Want to look festive? Drape streamers over the lattice. Regardless of how you gussy up your pergola, it will definitely add to the overall beauty of the landscape.
Gives A Dreamy Vibe To Your Property
Pergolas, with their open lattice tops and graceful pillars, cast fantastic shadows at evening. They cary gentle drapery that flutters in the wind. They evoke the summer romance and the fairy's dance with their vertical lines and flowing coverings. This may be just the right feature to put your clients in a relaxed, happy mood, and everyone knows that it is easier to deal with a client who is relaxed.
If you want a truly beautiful landscape and are wondering if a pergola would help, contact us. Metro Lawn Care will work with you to design the landscape your business deserves.