The Difference Between a Yard and an Outdoor Living Space
Exterior Design is as Important as Interior Design  
Inside your home or business, you create multiple areas, each with a different mood and purpose.  Your outdoor space should be no different.  Regardless of the size of your outdoor living space, Metro Lawn Care can create the perfect space for your professional and leisure needs.  Whether you're entertaining at home or relaxing at work, we'll create an environment that feels both spacious and comfortably intimate.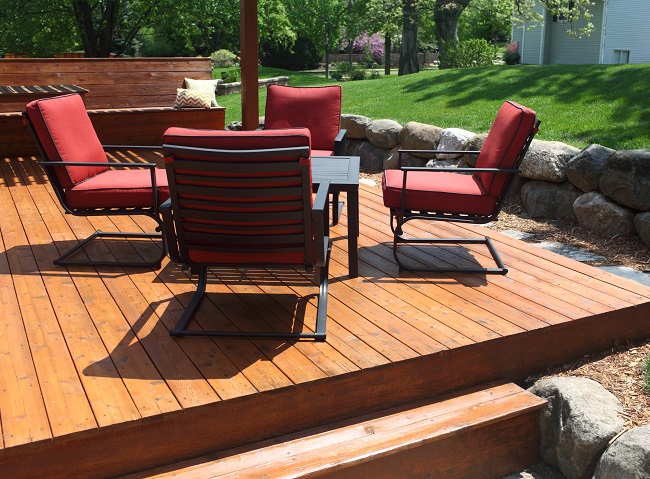 An outdoor living space isn't determined by square footage.   We've seen small yards and acres of property unrealized.  The key is to utilize each space in the best possible way.  Metro Lawn Care can make the difference between an unused plot of land and a beautiful extension of your home or business.
Creating an Environment
Arbors, pergolas, and decks are three ideal ways to create the ultimate outdoor environment.
Arbors
An arbor is a doorway to another world.  It can welcome you into a garden paradise or entice you to walk down a pebbled pathway.   It can complement the architectural design and color-scheme of your home or business, or be covered in grapevines as a charming entryway to a wine garden, outside eating area or pergola.
Pergolas
A pergola is the ideal extension of your living and working space.  As a shaded passageway or sitting area, your pergolas can be elevated, built into the existing landscape, surrounded by trees, or strategically placed as an oasis, a destination point at the end of a meandering path.  Metro Lawn Care can complete your pergola with a fire pit, built-in bar, barbeque, or water feature.
Decks
Let us blur the line where your inside space ends and your outdoor space begins with a custom deck that feels like we've actually extended the exterior walls of your home or business.  Our decks can be multi-level, reflect your architectural design, and encourage you and your guests to open the doors and move out into the great outdoors.
Contact us for details.  Check out the latest on our Blog and follow us on Twitter!