The Simple Beautification of Your Business
If you own a business, you know how time-consuming the day to day tasks can be. Aesthetics can fall to the bottom of your to-do list, but how your business looks is an incredibly important part of customer draw. Let the impact of a green lawn, gorgeous trees, and bright flowers speak to your own professionalism. Metro Lawn Care will create a beautiful setting for your commercial site.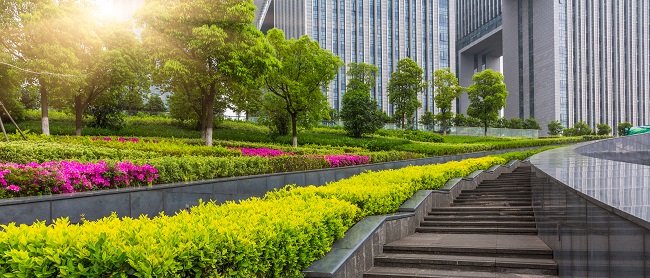 Our services:
You will not have to worry about applying chemical or fertilization treatments. We will keep ahead of your weeds; in gardening beds, hard-scape areas, and turf. We will administer nutrients and preventive care to trees, keeping them healthy and beautiful.
Our commercial fire ant control will fight infestations, keeping your customers and employees safe from painful bites. A more general insecticide controls the populations of many other problem insects.
We offer testing to solve and prevent problems with soil, foliage, and disease pathogens. Get ahead of possible growth hindrances before they start with this information. We can develop a program to aid you, walking you through each step if you wish.
Aeration services was a simple and very beneficial way to keep your lawns healthy and lush.  Broadcast fertilizer application aids in fighting weeds.  It is a no worry, no fuss, no extra work way to keep an attractive and inviting locale. There will be no need to store chemicals. No need to concern yourself with which are the best or safest to use.
We are fully skilled and understand how to care for possible problems with your property. All you have to do is enjoy the result. Our professionals will do everything within our power to create what you wish to have at your business. Imagine checking another thing off your list, simply contact us to make it a reality.