Arbors, Pergolas, and Decks Add Beauty and Functionality
To enhance the beauty and style of your property, you may consider adding an arbor, pergola, or deck. Depending on your business, this may be the perfect enhancement to create extra customer excitement and overall design appeal.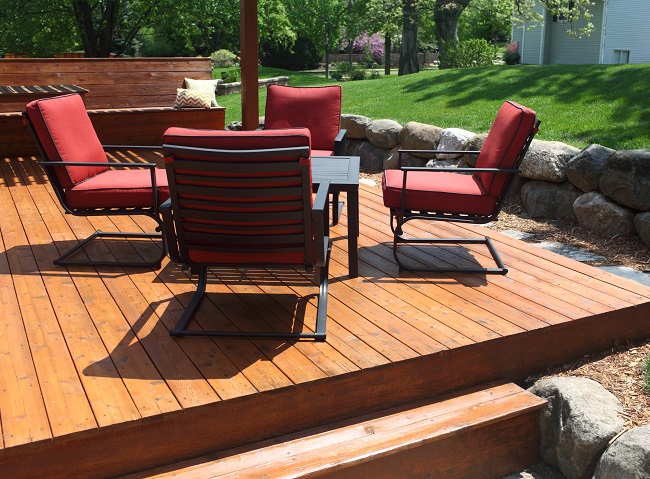 Pergolas are open-topped passageways  or seated areas created with vertical beams sustaining the weight of an open lattice of horizontal beams. It forms a shaded walkway or shaded sitting area. Here, some sun is desirable, but not full sunlight all day long. An area close to a pool might use a pergola for some relief from the sun.
A pergola may be an extension of a building or it can link two pavilions.  Free-standing pergolas allow for breeze and sun, but also protection from direct sunlight. Vines or climbing plants may be trained to climb pergolas for additional shade.
Modern pergolas can use older, traditional materials such as wood and stone, or more modern materials such as vinyl, aluminum, CPVC and fiberglass. These are a low maintenance alternatives to wood.
Arbors are smaller than pergolas and serve a different purpose. They are usually gateways from one area to another, for example, from one garden to another.  They are not designed as places for people to sit in the shade. They are simply arching constructions which have the open air look of an overhead pergola with vines or climbing plants. However, these archways are used for the primary purpose of doorways only, not larger extended shady areas. Sometimes a free-standing arbor might be used in an outdoor wedding ceremony.
A deck is the outdoor floor attached to a building. It can refer to the tile area surrounding a swimming pool. It can be an observational platform atop a tall architectural structure. It can be a rooftop deck, which allows activities upon it, rather than being a simple roof.
Contact us if you are considering building an arbor, pergola, or deck. With over 40 years of commercial landscaping experience, we can blend your current landscaping with your new pergola, arbor, or deck.