Ideas for Your Commercial Landscape Design/Build
Your commercial landscape design is extremely important as it has the power to deter or attract people. It should match the building and leave a good impression on your clients. Remember that you are telling potential clients who you are and what you stand for by the aesthetic of your landscape. To turn your existing landscape into the dream vision you have imagined, the professionals at Metro Lawn Care can do just that.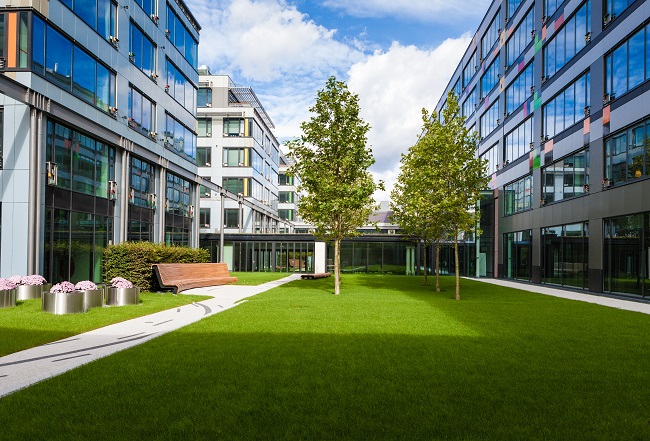 Landscape Designs to Consider
Make it Friendly
To encourage people to stay, add trees for shade, benches for relaxing, and water fountains to further the beauty of the property. To take it further, you can add some lawn games and a soft surface for children to enjoy. This is important because if your space doesn't feel inviting, it will deter people from stopping by.
Lead People to Your Entrance
Choose pathway materials that are dramatic. Line it with flowers and shrubs, lead your clients to a colorful door, and add lights so it still draws attention during the late hours.
Make it Appealing During Cold Months
It's easy to have beautifully bloomed flowers during the warmer months, but you don't want to welcome clients with dead plants or a brown lawn during winter. Plan accordingly to the weather all year round. When the weather becomes cold, opt for low-maintenance colorful plants and shrubs such as Red Twig Dogwood, Winterberry, Winter Camellia, and Winter Jasmine.
Sustainability
Decrease your carbon footprint with natural green space and install an irrigation system. You can also plant multiple trees to have a cooling effect during the warm weather months.
Get in Touch With the Professionals at Metro Lawn Care, Inc. Today!
We are a full service commercial landscape company serving Dallas for over 40 years, and we can help you plan your landscape design accordingly. To get started on your design, contact us, or click here for a quote!