The Art of Commercial Landscaping
The art of commercial landscaping design is part of a collaborative process, not only between you, your clients, your employees, and the design but also between the building and the design. From plant installation to irrigation systems, and from lighting systems to maintenance, if you want your building to stand out, all these elements will need to be considered in relation to the building itself.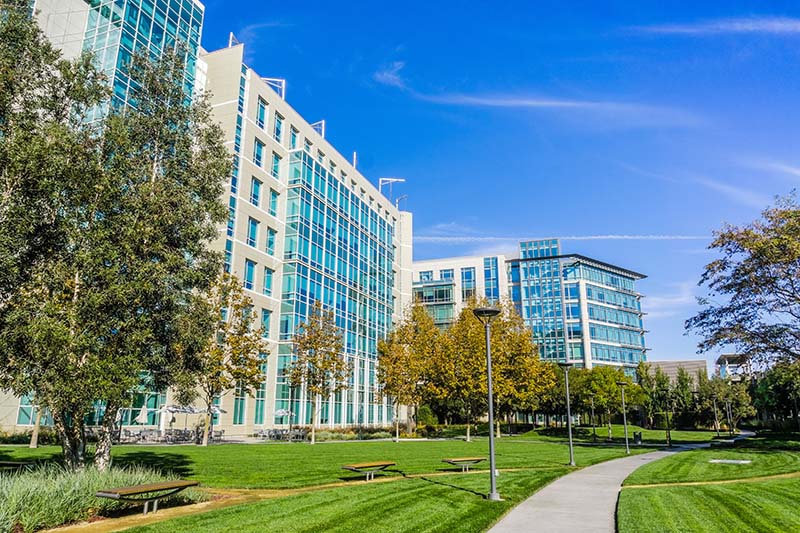 Landscaping is not just about planting some nice plants for color, although this is a very important aspect. Landscape design takes in the contours of the land, the hardscaping needed to bring the property to life, the proper placements of plants, irrigation, and lighting, as well as maintenance needs.
You only get one chance to make a first impression!
By drawing attention to focal points such as the main entrance, an oversized sculpture, water features, or tiered landscaping, your business' landscape becomes very interesting, creating curb appeal. Commercial property owners tend to underestimate, and even under-appreciate the value of landscaping. Landscaping your commercial building doesn't have to cost you a small fortune. 
Metro Lawn Care takes pride in tailoring each project to your individual taste. We guide you through a process of looking through our books and discussing your preferences such as colors, shapes and smells – this is how we can get an idea of your preferences.
When you hire the professionals at Metro Lawn Care for your commercial landscaping project, our goal is to help you create the image you desire as well as ensure all the parts work together.
Our master gardeners' and arborists' extensive knowledge of plant textures, plant materials, color, and plant performance, guarantees healthy plant growth and eye-catching color displays. Your employees, clients, and tenants will be awed!
Here's how we do it: 
Invest in a plan – this provides you a map to future modifications
Develop a theme – Let your building dictate the landscape theme that is connected to the architecture of the building. Landscaping should not dominate the architecture—it should enhance it.
Welcome your clients and employees – Make your building's entrance a focal point, one that welcomes your visitor's and employees. This can be accomplished in a variety of ways—bright grasses, flowers, and the proper lighting are just some ideas.
Plant choices and future plant growth – When designing your commercial landscape, we take plant maturity into consideration in planning the theme. Additionally, we will stagger blooms for seasonal interest and intersperse native grasses, evergreens, and shrubs for winter.
 Light the way – During the winter, when we switch back to Standard Time v. Daylight Savings Time, employees arrive and leave work in the dark; low-voltage lighting can light the way to keep them safe.
Keep it low maintenance – During the design stage of the landscape plan, we will also prepare a maintenance plan detailing the care of the landscape throughout each season. Xeriscape landscaping is a style of landscape design requiring little or no irrigation or other maintenance,  saving you energy and maintenance costs.
Green & sustainable landscaping – Diverting water from storm drains by utilizing rain barrels is an excellent way to conserve water and maintain freshwater for outdoor use. If requested, we will incorporate these into the design as well.
Most commercial landscapes have a life span of approximately 20 years. After that, things tend to look overgrown, leggy, and worn out. Be sure to freshen up the landscape periodically to keep things interesting.
Servicing the Dallas area for over 34 years in commercial landscaping, Metro Lawn Care will help you achieve the look and feel you want for your landscaping. Call us today for a free analysis and quote.